FuckYeahDecoden Official FAQ
FOR MORE FAQ INFO: http://fuckyeahdecoden.tumblr.com/tagged/faq

1) where can i buy silicone/what kind should I purchase?
We 3 ladies use different kinds of silicone, we live in different states & countries, but we purchase our silicone from our local hardware stores. The key to purchasing silicone is to purchase 100% silicone, no mixes!
2) I bought Alex Dap, is that a suitable a silicone for deco?
No, Alex Dap is a 50/50 silicone and will not set properly, some people use it, but FYD does not recommend this brand of silicone.
3) where can I buy those cute things to put on cell phones? what are they called?
CABOCHONS! Cabochons are the cute bows, hello kitty, sweets, ice creams, etc etc, that you use people use in deco. They can be purchased all over the place! We recommend etsy as there are MANY sellers of cabochons on etsy that we use and LOVE. To name a few:
♡CuppieCakeSprinkles
♡RoppongiKitsch
♡Sophie & Toffee
There are LOADS more shops than that, but we love all 3 of those etsy's and recommend giving them a shot!!
4) so you 3 have a business? or your own? isn't that weird? where can i get a case from you?
Yes! We all 3 have our own etsy's we don't view each other as competition, but as comrades, we help each other find items & give each other advice all the time, like deco sisters! To buy a case from us check out the shops:
♡www.etsy.com/shop/decoutureboutique
♡www.etsy.com/shop/xanadujulie
♡www.joliepetitedeco.com
We have our own styles and focus on different things in deco so check us out and see which is most suitable for you! :)
5) how can i submit my own deco? can i promote my shop and/or giveaway?
Please feel free to submit any of your personal work (or an item you purchased!) but please be sure if it's not your original work to credit the individual who you purchased it from.. WITH THAT: submissions have changed slightly and the following is going into effect immediately:
♡no self promotion of your shop/deco business
-you may submit any/as many photos of your own deco as you like but you may not include in the text section links or descriptions such as "check out my etsy/facebook page" "get your own here/at my shop" etc etc etc…
-no personal giveaways, we only post FYD hosted giveaways, none from our personal blogs, since FYD can't "win" we do not reblog as such a thing is considered "entry" why enter if you can't win? :P
-you MAY attach click through links to your images, and if you images have watermarks containing your shop name that of course is TOTALLY FINE. to create an image with a click through link:
-create the image as a post to your personal blog, at the bottom of the image post it says add click through link, place your shops link there, then post! Then! Goto fuckyeahdecoden.tumblr.com/submit and submit a LINK to the post on YOUR tumblr containing the image you would like posted.
-if you submit an image and/or link that contains promotion for your shop it will either not be submitted and/or the text will be removed and only the image will be posted.
All of these submission changes are in an effort to keep FYD from being one big promo blog, we have been receiving complaints that they want to follow FYD but all the constant shop promo (and the fact that there are quite a few shops out there) are a huge bummer… So unless you are a sponsor of FYD (i.e. CuppieCakeSprinkles) or another supply shop we are highlighting (which will be chosen at the discretion of the moderators) we will not be posting shop promotions on FYD any longer. INCLUDING OUR OWN! fair is fair ♡
6) I am a supplier how do I get in contact with FYD about becoming a sponsor?
Easy! Shoot us a message @ fuckyeahdecoden.tumblr.com/ask OFF ANON and let us know about what you do/sell. If you are a shop one of us (or all 3, more likely) shop at, you can also feel free to reach out to any of us via etsy/email. :)
7) where can I buy a hard case for my phone?
eBay is the easiest place to find cases, typing in "crystal hard snap case" or some variation of that is usually the easiest way to find a case for deco.
8) are there certain types of cases i can use? what about those TPU cases?
There ARE certain cases that are better than others for deco, we do NOT recommend the TPU cases as the silicone can/likely will peel off of it easily, same thing for "rubberized" hard cases, if you use a "rubberized" hard case be sure to use an industrial sand paper to rough up the surface where you are going to be placing your silicone, rhinestones & pearls do not stick well to that surface pretty much across the board, so we don't recommend using them for any kind of embellishments. Hard cases are your #1 best bet.
9) what kind of glue should i use to make rhinestone/pearl cases?
2 options: you can either use a 2 part epoxy, this method involves blending 2 products together to create the epoxy, unless you are skilled with this type of glue we recommend you practice before using it on a case as an imbalance in your epoxy can cause yellowing. E6000 is the highest recommended product, it's an industrial strength adhesive which can be purchased at any craft store.
10) how do you get the drippy effect?
Again, 2 choices here. For beginners we suggest getting a 3D puffy paint, it's easy to control (always do a practice squeeze on paper before deco!), but does take a while to dry! For more advanced deco you can do the hot glue effect, this takes a little more practice & patience. You can buy hot glue sticks with frosting colors from shops like cuppiecakesprinkles on etsy!
11) where can i get polymer clay? how do i use it?
You can buy polymer clay from etsy shops (search supplies: polymer clay) or from a craft store (USA i.e. Micheal's) for use you can hand sculpt if you are very skilled with clay, or purchase molds from suppliers, again, that can be found on etsy (i.e. miniaturesweet).
We are going to do our best to keep this FAQ updated FREQUENTLY & post it OFTEN as questions which fall under these categories will no longer be answered on a daily basis as they have been until now.
Thank you all for reading & STAY KAWAII!! ♡♡ XOXO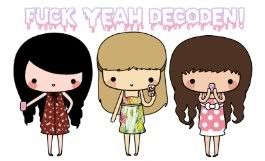 FOR MORE FAQ INFO: WWW.FUCKYEAHDECODEN.TUMBLR.COM/TAGGED/FAQ